Rug and Textile Appreciation Morning: Guatemalan Mayan Weaving
The George Washington University Museum – The Textile Museum
Saturday, August 21, 2021 – 11am EDT
Our own Raymond Senuk will be presenting! Join him for an introduction to Guatemalan weaving and culture focused on ceremonial textiles from San Pedro Sacatepéquez. San Pedro has a rich repertoire of textiles that were woven to venerate saints. Senuk will introduce examples from his collection and explore how these textiles reveal their age and use in the daily and ritual life of the community.
Ray has collected historic Mayan textiles for more than 40 years, focusing on textiles made before 1940. He has curated numerous exhibitions and authored articles and books, including Maya Textiles of Highland Guatemala (1982), Embroidery – Stitches That Unite Culture (2010) and the Ceremonial Huipil Map (2013). Senuk has donated over 1,500 pieces from his collections to museums and educational institutions across the United States, including The Textile Museum. He holds undergraduate and graduate degrees in anthropology from Brooklyn College and Yale University.
For more information and to register for this online program, click here.
In the works!
A portion of our Mayan Traje: a Tradition in Transition traveling exhibit will be on view from Sept. 24 through Dec. 31, 2021 at the Wheaton Arts and Cultural Center in Millville, New Jersey. Their Down Jersey FolkLife programs speak to diverse audiences and include exhibitions, demonstrations by artists/tradition bearers, performances, festivals, classes, training for educators, lectures and seminars. Activities at the Center have ranged from Pinelands basketry and Native American drum-making to Japanese origami and Ukrainian pysanky; from African American doll-making to Palestinian embroidery and Guatemalan weaving.
This exhibition will feature the Travis Doering Collection of textiles and related artifacts from 40 villages in the Guatemala highlands. Trajé, or traditional dress, has deep cultural significance to the Maya people. The tradition of weaving and use of symbolism has been passed from mothers to daughters for hundreds of years and supports the legacy of craftsmanship that defines the Guatemalan Maya culture. Traditional dress is primarily still worn by women and includes colorful backstrap loom-woven huipiles (blouses), cortes (skirts), cintas (headdresses), rebozzos (shawls), and fajas (belts), examples of which are mounted in the gallery for public viewing.
Click here for more information. The official opening of the exhibition is scheduled for early Fall Semester 2021, but is dependent upon the relaxation of COVID restrictions.
Maya: The Exhibition – has been extended to November 9, 2020
Even if not textiles, this exhibit makes its US debut at Cincinnati Museum Center – Cincinnati Museum Center – bringing the mysteries of the Maya to the United States for the first time. Maya: The Exhibition immerses guests in a sophisticated civilization buried in the heart of the rainforest. Guests can unearth a world of innovators and gods now at CMC.
Maya: The Exhibition features over 300 original objects that detail daily life, religion, politics and innovations of the Maya. The exhibit design features the civilization's iconic stepped pyramids and the vibrant colors of Maya artwork. Pristinely preserved clay and stucco figurines and elaborate jade and gold jewelry showcase their artistry. Hieroglyphs carved into massive stone slabs demonstrate their sophisticated writing and passion for history. Large stone carvings and massive stucco sculptures portray the large pantheon of Maya deities. And tools and everyday items reveal the foods, work and play that defined daily life. Interactive elements allow guests to get a more intimate look at certain objects and to even manipulate data from modern archaeological equipment that is allowing for greater discoveries. Click here for more information.
Museo Ixchel Wins 7th Place in the IberMuseos 2020 Education Competition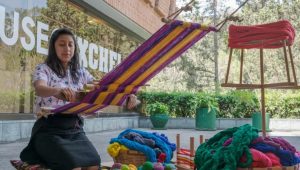 The Museo Ixchel's program – Connect with Your Roots – was recently awarded a top prize among the over 200 entries. Click here to read all about it (in Spanish!) in the Prensa Libre.
Mayan Traje: A Tradition in Transition
July 21 – October 13, 2019 – Turner and Gilliland Galleries
Friends of the Ixchel Museum staged this significant textile exhibit at the San Jose Museum of Quilts and Textiles which was well attended and very well received. We showcased outstanding examples of Guatemalan clothing from the early 20th century to contemporary fashion – exclusively from our own textile collection.
KQED (Public Media for Northern California) published an article on their website about the exhibit. To read the article, click here.
Cofradia: Warp and Weft
February 12, 2019 – current.  The Museo Ixchel (Guatemala) has refreshed two of its major galleries: The Carmen L. Pettersen watercolors and the Cofradía temporary exhibit.  Cofradía: Warp and Weft has been redesigned and now contains different textiles and text.  An inaugural cocktail will be held on February 12th  at 7pm.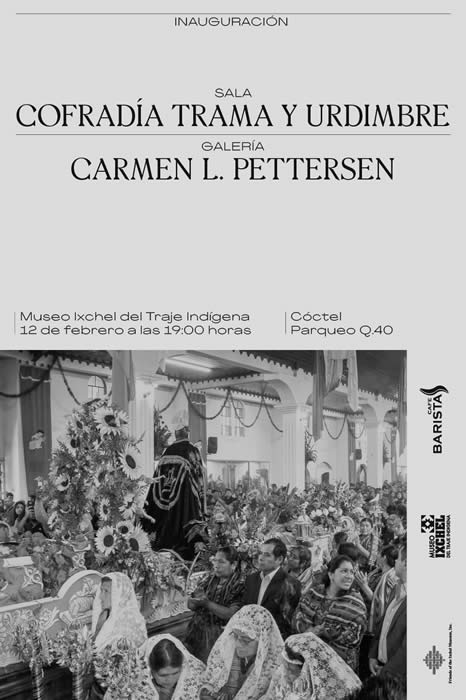 Discover Maya
In Maya, you will discover what archaeologists know about the ancient Maya and the unresolved questions they continue to investigate. The exhibit explores the fascinating social, natural, and spiritual realms of the ancient Maya through the eyes of powerful kings and queens and the lesser-known people who were the backbone of Maya society. This exhibit at the Natural History Museum of Utah will feature impressive environments, authentic artifacts, and hands-on activities that tell the story of the ancient Maya and their modern descendants. Exhibit runs November 10, 2018 to May 27, 2019. For more information, click here.
Workshop: Learn about fabrics
Workshops at the Ixchel Museum (Guatemala) – Ever wonder what those symbols mean? "Let's Learn about Weaving" is a new workshop given from 10-12 noon every third Thursday of the month.  It is led by Violeta Gutierrez (curator) and Barbara Knoke (anthropologist) – a modest fee is charged. For more information, you can contact the Museum at educacion@museoixchel.org.
Textiles at Twelve
For those in the Washington, DC area, please note the free lecture series 'Textiles at Twelve', sponsored by the Textile Museum. Weekly lunchtime programs—including films, lectures, and gallery talks—focus on the textile arts and global cultures. Free; no reservations are required..
Weaving into the Future
FOIM is initiating a women's weaving cooperative in the Washington DC metropolitan area.  Weaving Into The Future will give women a kickstart (space & materials) to develop quality saleable woven products & locate sales venues.  The women will earn from their efforts, their children will learn how to weave, and the broader community will be able to see and appreciate the amazing Maya textile tradition—live. Upcoming events will be posted as information is received.
500 Years | Life in Resistance
Produced in 2016, this is the third film in a trilogy about Guatemala. This installment explores the sweeping historical significance of the war crimes trial of General Ríos Montt and the toppling of corrupt president Otto Pérez Molina. Director Pamela Yates gracefully engages the indigenous Mayan population who experienced genocide at the hands of a long-standing repressive government. Silenced family members and eyewitnesses come forward to share their individual stories with the desire that their under reported, horrific treatment receive the attention it deserves.
Spoken in Spanish and native Mayan languages, 500 YEARS delicately weaves archival footage with new interviews and emotional courtroom scenes to shine light on a growing movement to fend off the systematic aggression toward an underrepresented people. Focusing on the recent events of a country that has suffered for generations at the hands of a ruling elite, the film hails the nation's citizens banding together on a quest for justice—and emerging as a beacon of hope. Click here to see film trailer.
IXCANUL

 

– Mayan Language film
'Ixcanul' (which translates roughly to 'volcano' in the Mayan dialect of Kaqchikel) is an arresting story about two strong indigenous women. The 2015 film is still being shown. Click on the IXCANUL title above for more information.
Maya: Hidden Worlds Revealed – The Witte Museum – the Mays Family Center for Special Exhibitions and Events! For the first time, archeologists are sharing the secrets about this fascinating society in a singular and unforgettable museum experience. Maya: Hidden Worlds Revealed is the largest traveling exhibition about the Maya ever to be toured in the United States. It uses a combination of authentic artifacts along with multimedia and interactive, hands-on activities to reveal our deep ties to this astonishing civilization. This is the Texas premier of this unprecedented exhibition.