Ana-Maria V. Zaugg, President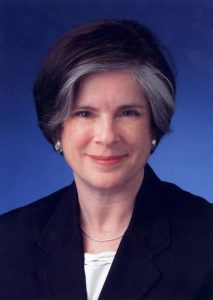 Personal Interest in Guatemalan Textiles
My connection with Guatemala was my mother, Ana-Maria Orive Goubaud de Zaugg, which relates her also to Beltranenas and Pokornys. I went to Guatemala every third summer as a child, then as a teenager I went annually. During and since, I have purchased textiles because I loved them.  I joined the FOIM Board at the behest of Holly Nottebohm and Suzy Davis because I was keen to advance the US knowledge of Guatemalan/Mayan weaving excellence and tradition…and thus support the Ixchel Museum.
Retired, I now can devote considerable time to Museo activities, but did what I could historically while working.  As Yolanda would say "cada uno pone su granito de arena" and we welcome all with a sincere interest in contributing to our work.  It can help add balance and camaraderie to your life.  I have a special interest in the photo archive (both my father and aunt were excellent photographers), on making the websites valid and valuable, and on creating easy-to-use exhibit modules for educational use in the US.  I am delighted that we now have a significant collection here in the US to draw from for exhibits large and small.
Work Background
My career was largely in marketing, with an emphasis on strategy. I have worked at Merck, McKinsey, and IMS.  My last position was as Chief Marketing Officer, with global responsibility for branding, company positioning (including advertising and global website development), and competitive intelligence.  My team's work supported strategy and marketing, and I did a lot of public speaking. My very first job was at the Stanford University Libraries, and you will still find some research publications on Latin America from that (ancient) time.
I currently serve as President of the Friends.
Education
I hold an MBA dual degree in Marketing and International Business from Columbia University (1977). Also an MA in Latin American-Studies (concentration Anthropology) from Stanford University (1972) and a B.A. from Smith College (1971) also in Latin-American Studies (concentration Sociology)
---
Yolanda Alcorta, Vice-President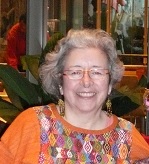 Yolanda Alcorta is a longtime Board member of the FIOM. She has been collecting textiles for forty years and curated Maya textile exhibits at Longwood Gardens and the Morris Arboretum. She has a Master of Arts in Teaching in Museum Education from George Washington University, and a Master of Science in Biology/Botany, from the University of Michigan. She began her work as a museum educator at the Mexican Museum in San Francisco where she established the Education Department when the museum opened in 1975. In 1992 in Philadelphia, she co-founded Raíces Culturales Latinoamericanas—Latin American Cultural Roots – now a respected Latino cultural center. As Executive Director of Raíces she worked closely for 16 years with the Latino community in Philadelphia and developed numerous education-centered programs on Maya textiles and traditions as well as Latin-American culture.
Currently, Yolanda resides in Washington, DC with her husband Chris. She has continued her work with the Latino community in DC and expanded Raíces' programs by creating actual and virtual cultural corridors between Philadelphia and Washington artists and audiences.
She is a committee member of the GuateFest, a large annual Guatemalan community festival. She also served on the board of the Guatemalan Human Rights Commission and Humanities DC and public school committees at her children's schools.
President of Alcorta Connections, Yolanda is a bilingual consultant to museums and the non-profit community. She currently presents and develops programs for the Smithsonian National Museum of the American Indian, including events featuring full Mayan trajes, traditional dance with live marimba music and traditional sawdust carpets. She has also worked on various interpretive projects at the National Museum of American History, the National Museum of Natural History and the Smithsonian Folklife Center. One of her many current projects is the formation of a women's weaving cooperative, Weaving For The Future, sponsored by FOIM.
Yolanda continues her project management work in clinical research for the development of vaccines and treatments for malaria and emerging infectious diseases with the Naval Medical Research Center.
---
Susan Moore de Riojas, Secretary
Susan Moore Riojas, a British citizen, was born in South America and moved to Guatemala as a child.
Susan has worked with the Museo Ixchel de Traje Indigena as both a member of the local Board of Directors and as a volunteer for over thirty five years! She has been a member of the Board of FOIM for over ten years.
She studied Mexican Folklore as well as Art History in both Mexico and England, giving her a deep appreciation for textiles. Her love for weaving began at an early age, with various Andean pieces her grandmother collected in the early 1930s and later as a young adult, became an avid "collector" during the 1970s.
She worked with the Canadian Government in Guatemala and for the past ten years owns her own General Sales and Travel Agency.
She is married to Ricardo, a Mexican national and has three children.
---
Loa P. Traxler, Acting Treasurer
Dr. Loa P. Traxler is a Research Scientist in the American Section of the University of Pennsylvania Museum of Archaeology and Anthropology in Philadelphia, Pennsylvania. Loa pursued her undergraduate education in Fine Arts and French at Manchester College in Indiana, and upon completion of her bachelors degree, she worked for a time as a graphic arts designer. After studying Pre-Columbian art and traveling in southern Mexico, Loa became interested in Mesoamerican archaeology. While working in biotechnology at Carnegie Mellon University in Pittsburgh, Pennsylvania, she began coursework in Anthropology and Archaeology at the University of Pittsburgh. Following the recommendations of her U. Pittsburgh advisor, Jeremy Sabloff, she applied to enter the graduate program at the University of Pennsylvania, whose University Museum is known for its history of major research projects in the Maya area. After several years of study and long-term field excavations, she received her doctorate in Anthropology from the University of Pennsylvania in 2004.
Loa's research interests focus on the architectural evolution of Classic Maya centers and the nature of sociopolitical organization of these societies. As an archaeologist and surveyor she has worked with the Early Copan Acropolis Program for the University of Pennsylvania Museum since 1990. In her field research, Loa conducted numerous excavations within the Acropolis that documented the architecture and related burials, caches, and other primary deposits within the royal precinct of this Classic Maya capital. Loa also supervised the architectural mapping within the excavated tunnel network, and her lab analysis of the survey data has resulted in a variety of maps, graphics and architectural reconstructions. With the Penn Museum Applied Science Center for Archaeology, she has surveyed archaeological sites with additional projects in the American Southwest and the Near East.
Loa is the American Section coordinator for the publication of archaeological reports based on Penn Museum's excavations in the Maya area. She is a volume editor and author for the Copan Acropolis Reports, now in preparation, based on the ECAP investigations. In 2007 she co-organized the Penn Museum International Conference, The Origins of Maya States, from which an edited volume of scholarly papers is in preparation. Author of numerous reports on her research, her recent publications include the completely revised sixth edition of The Ancient Maya (2006, Stanford University Press) written with senior author and husband, Robert J. Sharer, Curator in Charge of the American Section. Along with her research activities, Dr. Traxler also serves as the coordinator for the Annual Maya Weekend at Penn Museum. Held every spring, the Maya Weekend is a public conference combining scholarly talks, hands-on workshops in Maya epigraphy and iconography, engaging films, and temporary exhibits related to the conference theme.
From 1998 until 2003, Loa was the Assistant Curator of the Pre-Columbian Collection at Dumbarton Oaks (Trustees for Harvard University), Washington DC. With a wide range of duties, Loa managed the Robert Woods Bliss collection and was responsible for the development, design, and installation of displays within the famous Pre-Columbian pavilion designed by Philip Johnson. As a curator, Loa has organized exhibitions focusing on the artistry and history of indigenous peoples in the Americas for the University of Pennsylvania Museum and Dumbarton Oaks, Washington DC. Recently, Loa has focused on data analysis and collections management of the ECAP archaeological collections maintained in Honduras by the Instituto Hondureño de Antropología e Historia as well as the ECAP research archives and database at Penn Museum. Recently, She has begun developing a major traveling exhibition for Penn Museum, entitled The Ancient Maya City, which will highlight recent research at Copan.
---
Emilie de Brigard
Emilie de Brigard is an independent scholar of film history and visual anthropology. She curated the first retrospective program of anthropological films in an American museum (The Museum of Modern Art, New York) in 1973, and produced the last film made about Margaret Mead ("Margaret Mead: a Portrait by a Friend"), directed by cinema-verite pioneer Jean Rouch in 1978. She taught courses in visual anthropology (at Harvard) and African cinema (at Yale) in the 1980's. Her "History of Ethnographic Film" (in "Principles of Visual Anthropology") has been translated into eight languages, and her entries on African cinema appear in "Africa: a New Encyclopedia."
Since 1995 she has chaired the Schools and Scholarships Committee of the Harvard Club of Connecticut, and she has served on the boards of organizations such as the Amistad Center for Art and Culture, Arden Seminars, International Film Seminars, and the Wadsworth Atheneum. She was President of FOIM from 2005 to 2007.
She is married to Raul de Brigard Herrera and divides her time between Connecticut and Guatemala.
---
Chase Davis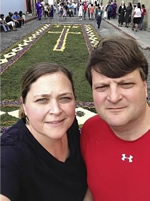 Chase was born in Guatemala and while he spent most of his life in the United States, has returned to visit Guatemala and retains strong ties to his country of birth. Chase's parents have a long involvement in Guatemala through their work in the US Foreign Service, the Ixchel Museum, and Universidad del Valle.
Chase is currently a Realtor for Berkshire Hathaway Home Services. Chase also has worked as an Export Sales representative for AMCO International and Davis Elliot International, both based in the Philadelphia area. Additionally, Chase has lived in Costa Rica for two years where he worked in the village of Bri Bri with Agro Apta, an agricultural cooperative, as a Business Development Officer and as a volunteer in the Gandoca-Manzanillo Wildlife Refuge.
Chase has a BA in History from Temple University. He enjoys spending his free time playing tennis and paddle tennis, coaching his daughters' field hockey teams, serving on a Paddle Tennis Committee and volunteering as a class fundraising captain for the Agnes Irwin School. Chase currently resides in Malvern, Pennsylvania with his wife, Shannon, and his children, Caroline and Sara.
Chase looks forward to bringing enthusiasm and a passion for Guatemalan history and culture to his work with the Friends of the Ixchel Museum.
Shannon Davis
Shannon Davis was first introduced to the Ixchel Museum by her (then to be future) in-laws Suzy and Charlie Davis. She later was able to travel to Guatemala and fell in love with the vibrant culture and the country.
Shannon is the Chair of the World Language Department at Harriton High School in the Lower Merion (Philadelphia Area) School District. She has worked as a mentor and liaison for the K-12 World Language program as well as a leader on the Transformative Curriculum Committee of the recent Strategic Plan. Shannon has worked as an ESL, Spanish, and bilingual teacher for almost twenty years.
Prior to her work in the United States, Shannon was a volunteer with the WorldTeach Program, through Harvard University's Institute for International Development. With WorldTeach, Shannon lived and taught in rural Costa Rica for two years. She also taught at Mont Berkeley International School in San José, Costa Rica.
Shannon has a BA in Political Philosophy from Loyola University of Maryland and a MA in Educational Leadership and Administration from Immaculata University. Prior to living and working in Costa Rica, Shannon lived and studied in Belgium at Katholieke Universiteit of Leuven.
Shannon enjoys photography, music, and traveling in her free time. She lives in the Philadelphia area with her husband Chase, and their daughters, Caroline and Sara.
---
Elisa Maria Dyer de Fitzpatrick
Lisa has a special love for Guatemala, its rich culture and Mayan heritage as her mother, Lucrecia Herrera Ibarguen de Dyer was a born and raised Guatemalan. Although she grew up in DC, she spent her childhood through college summers visiting her grandmother and extended family and one of her earliest jobs was at a store called Sombol that sold typical Guatemalan textile clothing and gifts. Since the 1970s, when she explored the markets of Chichicastenango and Solola, she was fascinated with the vibrant colors, textures and designs of the Guatemalan weavings. She has seen, over the years, the decline in quality of traditional weaving but a recent revival has brought new diversity to their styles and designs.
Lisa has a BA from New York University in New York (NYU) in 1974, with a major in Romance languages, Spanish and French. Afterwards she taught English in Ashiya-Shi, Japan. Married and now with three grown children and two grandchildren, she has followed her husband around the world. Upon retirement, they have made their home back in Guatemala City. She is presently on the boards of several family businesses.
---
Amy DiPlacido
Amy DiPlacido is a visual artist and curator based in Northern California. She has exhibited her work at Westmoreland Museum of Art, Fuller Craft Museum and Interlochen Center for the Arts.
As the Curator of Exhibitions at San Jose Museum of Quilts & Textiles, she has collaborated on shows involving historic, ethnographic and contemporary fashion and textiles. She has an MFA in Fiber from Cranbrook Academy of Art and a BFA in Fiber from Massachusetts College of Art and Design. She volunteers at Textile Society of America as the Digital Content Editor.
---
Maya Fledderjohn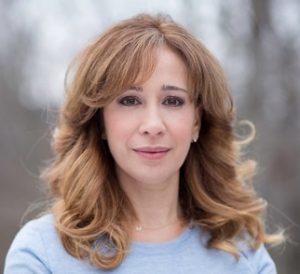 Maya Fledderjohn is now a dual member of FOIM and the Ixchel Museum boards. She has been President of the Asociación of the Ixchel Museum since 2013.
Maya has a diverse cultural heritage and a degree in international relations and diplomacy. Her family originally arrived in Guatemala to work with US foreign aid projects. She considers Guatemala home and has raised a son and twin daughters there. She owns and operates two businesses: a relocation consultant company and a gift shop.
Maya is actively involved in the day-to-day activities of the Ixchel Museum and is in charge of maintaining relations between the Museum and the international, diplomatic and business community in Guatemala.
---
Susan Hurst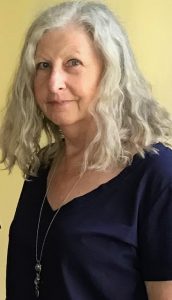 A native of California from the San Francisco Bay Area, Susan attended UC Santa Barbara to study political science and social psychology. After graduation Susan embarked on a 35-year career with the National Park Service, filling administrative and leadership roles as a senior manager at Golden Gate National Recreation Area.
A native of California from the San Francisco Bay Area, Susan attended UC Santa Barbara to study political science and social psychology. After graduation Susan embarked on a 35-year career with the National Park Service, filling administrative and leadership roles as a senior manager at Golden Gate National Recreation Area.
Susan's interest and passion for Guatemala first began when she travelled through the area in 1975 as part of a driving excursion from California to Guatemala, via a VW Bus. She was captivated by the physical beauty of the Guatemalan highlands and intrigued with the Maya culture and the integration of art into daily life.
In the early 2000's Susan returned to Guatemala with her husband to adopt their two Guatemalan daughters and her passion for local textiles and Maya culture was further cemented.
Susan is keen to advance the work of the Friends group in bringing knowledge and appreciation of the rich textile tradition of Guatemala and its indigenous culture to audiences interested in beautiful handwork wherever they may live.
---
Luciana Jabur
Luciana, who was born and raised in Brazil, led an expat life for 20 years, living and working in multiple countries around the world including the U.K., U.S., the Dominican Republic, Venezuela, Ecuador, Mexico and Guatemala.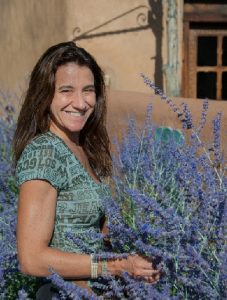 While in Guatemala Luciana served the local board of the Ixchel museum from 2015 to 2017 where she pursued partnerships on behalf of the Ixchel Museum with academic researchers from Delaware University and Nottingham Trend in the U.K., who helped find fresh ideas and latest research on combining traditional methods with technology and sustainability and on innovation and commercial approaches to create more market opportunities for the Guatemalan cultural textile heritage.
She has continued and deepened her connections with the artisan sector since moving to the US in 2018 through her work as an affiliated researcher of the Development Through Empowerment, Entrepreneurship, and Design Lab (DEED) for the Artisan Sector, led by Parsons School of Design in NYC and (Hand)Made to Market LLC, an applied research initiative for the makers market striving after enhancing value and competitive advantage for the craft and art sector.
She holds a bachelor of Business Administration from Faculdade Armando Álvares Penteado (FAAP), in São Paulo and a master's degree in Marketing Communications from The London Institute.
Luciana currently lives in Lawrence, a college town in Kansas with her husband, David Scharf, and dog Canelo. Sports are a big part of her life. She is a CrossFitter and an amateur runner.
---
Anne Hermann Lamborn

Anne Hermann Lamborn is a California-based independent artist who has specialized in weaving, drawing, painting, and dyes. She is a noted fiber artist who has shown her work in solo and group exhibitions, and has done public art and commissions. She served as a Peace Corps volunteer in 1966-68 in the aldea San José Calderas (Volcán Acatenango). Fortunately for her, she already had a degree in fine arts and Spanish (U. of California) and had also studied at the U. of Madrid and the Prado Museum by the time she got to Guatemala. There she immersed herself in village life and projects, learned to weave, and began her collection.
Later on, she received an MA (fine arts) from San Jose State based on her own original weavings, which she continues to produce.
Her large, ongoing Guatemalan collection and travels to Guatemala have been a constant inspiration in her art, Spanish-speaking, and anthropology life. For over 50 years, she has maintained personal ties with the indigenous community.
---
Carlos Nottebohm
Carlos was born in Guatemala, then educated in the United States where he now lives in Gladwyne, PA with his wife Renee. His sister-in-law, Holly Nottebohm, has been an active member of the Museo Ixchel's local Board in Guatemala.
He has extensive business experience, having worked in Guatemala, Germany, Switzerland and the United States. Past work experience includes being a Partner of Bernhard Rothfos KG (Hamburg, Germany); Director and Manager of Transcafe and also Director of Bero Kaffee (both in Zug, Switzerland); and Chairman of the International Coffee Corporation (New Orleans, LA). He is currently doing research on Macadamia cultivation.
Carlos is at present a Board Member of several organizations in addition to our FOIM: Overseers of the University of Pennsylvania Museum of Archeology and Anthropology, American Friends of the London School of Hygiene & Tropical Medicine and American Friends of the University of the Valley in Guatemala.
His special interest is Maya Civilization.
---
Margot Blum Schevill (Emeritus)
Margot Blum Schevill is a museum anthropologist who has been working with Maya textiles since 1978. She studied backstrap weaving in San Antonio Aguas Calientes. She has curated many exhibitions and has written numerous articles about weavers and textiles of Guatemala. She is an independent textile consultant and lives in Berkeley, California.
---
Raymond Senuk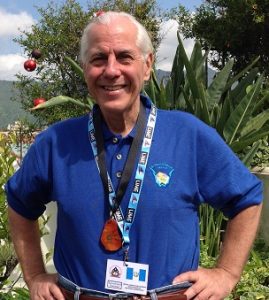 Raymond Senuk has been a collector of historic Maya textiles for over thirty-five years. His collecting interests focus on textiles that date prior to 1940. Currently, the collection consists of over 1,200 pieces. The goal of the collection is to acquire a wide range of textile material of the highest quality with the eventual goal of placing the collection in the public sector. At this point in time, over 1,500 pieces have been donated to various museums and educational institutions including: the Saint Louis Art Museum, the Textile Museum in Washington, D.C., the Lowe Museum at the University of Miami in Coral Gables, the Casteñada Museum of Ethnic Costume, Tucson, AZ, the University of Southern Indiana at Evansville and the University of Southern Florida at Orlando.
What was originally an avocation has turned into a scholarly pursuit of the subject. Mr. Senuk has authored books and articles on the subject. He has curated numerous shows and lectured extensively on the subject. He holds undergraduate and graduate degrees in Anthropology from Brooklyn College, (City University of New York) and Yale University. He is currently President of the US Foundation, Friends of the Ixchel Museum. He resides in Antigua, Guatemala and St. Louis, Missouri.
---
Monika Snodgrass
Born in Berlin at the outbreak of the Second World War, Monika (Nika) attended school and university in Germany. In 1964, inspired in part by Kennedy's visit to Berlin, Nika decided to put her career as an educator on hold and moved to New York for a year "to see what America was all about". There she met her future husband, Bill, who was about to be assigned to Latin America with Bank of America. Soon they were married and living in Panama City. Panama was followed by assignments to Ecuador, Costa Rica, Guatemala, Venezuela and France.
In 1972, upon arriving in Guatemala, Nika joined the newly formed 'Comite de Artes Plasticas' and was introduced to Sue Borgatti, Baysis Hempstead and the textile committee of the 'Association Tikal'. With a life-long interest in ethnology, she soon became an avid supporter of the project to establish the Museo Ixchel.
In 1975 Nika and her family moved to Caracas where, in the aftermath of the 1976 Guatemalan earthquake, she organized an exhibit of Guatemala textiles to help the people of Venezuela better understand the rich cultural heritage of Guatemala. The exhibit was mounted at the Museo de Ciencias Naturales in Caracas and became the first international showing of textiles from the Museo Ixchel collection.
Nika and Bill moved back to the US in 1981 where Nika became active in community organizations. For several years she served on the council of trustees to the Temple of Understanding, one of the oldest NGOs, working to develop understanding and tolerance among the religions of the world. She is an active supporter of the United Nations and the National Council for International Visitors.
Since 1999, Nika and her husband live in Saint Marcet, France where they have restored a farmhouse in the foothills of the Pyrenees. Their three children and five grandchildren live in Germany and in the US.
Nika joined the FOIM board in 2005.
---
Joseph J. Borgatti – In Memoriam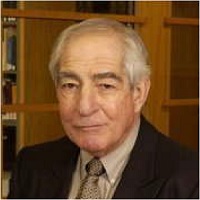 Sadly, Joseph James Borgatti, 96, passed away on November 3, 2019, from complications of a stroke in Lexington, KY, while visiting his son, Stephen, and daughter-in-law, Roberta (Chase). He was predeceased by his first wife, Carolyn (Sue) Jaskiewicz (mother of his son, Stephen), his second wife, Elizabeth Miskell, sister Rose Ciaffone, and brothers Louis and Alfred.
Born in Malden, MA, in 1923, of Italian immigrants (Joseph and Angiolina), he grew up in Somerville, MA. He began undergraduate studies at Harvard College, but when he discovered he couldn't fulfill the calculus requirement, he left school and joined the US military, fighting as an Air Force tail gunner with a bombing squadron in the South Pacific Theater in World War II. After the war, he was accepted to Harvard again, finished his BA in History, and managed the Harvard University Band. He felt that this latter experience helped him gain admission to Harvard Business School, from which he graduated with distinction in 1951. His 66-year career was spent mostly outside the US in countries as diverse as Brazil, Bulgaria, Egypt, and Guatemala. He began his career with Citibank in Brazil, first in Sao Paulo and then managing the Salvador (Bahia) branch. Later, he opened El Salvador for Citibank, and moved to Argentina as the Vice-President in charge of southern South America. After a brief stint in New York, he was recruited by INCO to open the Exmibal nickel processing plant in El Estor, Guatemala. In 1979 he took on the job of trying to save ADELA, a corporation begun by Sen. Jacob Javits to promote economic development in Latin America, which had gotten into deep trouble. Unfortunately, ADELA could not be saved. Much later — at the age of 95 — he wrote a book about the experience, entitled "ADELA: The Noble Birth and Costly Death of Early Venture Capitalism in Latin America" and was starting to think about a second book on a theory of economic development. After ADELA, he moved back to New York and spent two decades doing privatization consulting, which took him to some 30 countries around the world.
In 2000, he joined the board of the Bulgarian-American Enterprise Fund (which turned approximately $55 million in USAID seed money into $400 million) and its legatee, the America for Bulgaria Foundation. His other proud association was with the Ixchel Museum of Indigenous Dress, in Guatemala, which his wife Sue helped found in the 1970s, along with the Friends of the Ixchel Museum (FOIM), a US charitable foundation dedicated to supporting the museum. A founder of FOIM, he remained on the board until his death, attending a board meeting in Guatemala as recently as the spring of 2019. In addition to his work on his cherished boards, he looked forward to his monthly Citibank alumni lunches at Draught 55 in Manhattan. Joe Borgatti was charming, outgoing, a great storyteller and a deep thinker. He was also interested in everyone, especially if they had the slightest hint of a non-native-English-speaker accent, in which case he would draw them into a discussion of where they were from, which was usually just the first step to a new friendship. In his memory, donations may be made to Friends of the Ixchel Museum (ixchelfriends.org).
He will be sorely missed.
---