Your gifts and donations are essential to the success of our mission. We are grateful for your interest and welcome your participation.
Online Donations
You can also pay your membership or make a donation online via PayPal (using a Visa/Mastercard or a PayPal account). Payments are made on a secure PayPal website. 
Recognition Levels
Custodia $5,000
Huipil Ceremonial $1,000
Huipil $500
Corte $250
Faja $100
Cinta Seda $50
Cinta $25
Members receive free entrance to FOIM exhibits in the U.S.
Also entrance to the Museo Ixchel in Guatemala, with discounts on select purchases in its shop.
Support Friends of the Ixchel Museum
Your gifts and donations are essential to the success of our mission. We are grateful for your interest and welcome your participation. Our members and donors come from all parts of the United States, as well as abroad, and share a common admiration for Guatemalan textiles. We are dedicated to helping the people of Guatemala preserve this heritage and to helping the people of other countries learn about and appreciate these treasures.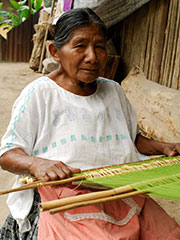 Your donations have helped to:
Fund field research to study five villages near Lake Aititlán in the Department of Sololá.
Renovate the permanent exhibition galleries at the Museo Ixchel, including labels and guides in English
Renovate the children's area of the museum, including the development of hands-on exhibits and the introduction of weaving tools to make the museum experience richer for children.
Members receive our biannual FOIM Bulletin by mail or electronically. Members also receive free entry to exhibitions by FOIM in the U.S. and to the Museo Ixchel in Guatemala City and discounts on purchases in the Museum Shop in Guatemala.
Friends of the Ixchel Museum is a registered 501(c)(3) not-for-profit organization. Contributions are tax deductible as allowed by law. There is no exchange of goods and/or services in connection with your contribution.
You may pay your membership or make a donation by check (which we prefer, since it avoids having to pay a 3% fee to PayPal). Please download and fill out our donation form, and make checks payable to the Friends of the Ixchel Museum, Inc.   Send completed form and check to:
Friends of The Ixchel Museum
15 Roszel Road, Suite 10
Princeton, NJ 08540
USA
Corporate matching programs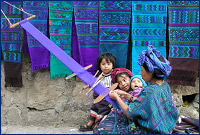 Note: Many companies offer a program that will match your donations to non-profits. Please check with your company to see if they have a matching program.
Planned Giving
By making a gift through your will or estate plan, you can support the understanding, preservation and protection of this important cultural legacy. Contact us for more detailed information.
Our work is only possible through your generosity! Join now!
Volunteer Opportunities
Project Support

We are an all-volunteer "working board" and each of us contributes Work, Wisdom, or Wealth as we can. Each of us has specific projects and we always seem short of arms and legs. Ongoing responsibilities, such as producing the Bulletin, require both input and coordination. If you wish to participate on an ad hoc basis, we would love to have your help. Contact us if you are interested in what's underway at present.
Join the Board
We meet formally twice a year, often with the annual meeting in Guatemala. Those interested in joining the Board often work with us for a year or so on a project basis… and then there is a mutual decision on whether to become a Friends of the Ixchel Board member. We would love interest from someone with a legal background.
Organize an Exhibit/Presentation
If you are part of an institution or organization interested in Guatemalan textiles and wish to borrow materials for an exhibit or an educational session, let us know. From time to time we lend materials and may be able to help you.
Donate Textiles or Photos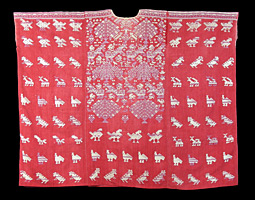 Many of you have beautiful textiles acquired years ago and may be wondering what to do with them. Consider donating them to the FOIM for use in exhibits or as educational materials! If you have material to donate, let us know. Please note that as a charitable organization, Friends of the Ixchel can not provide valuations or appraisals of textiles. (However, we can provide a receipt for tax purposes on your own stated value.)
Donate Photos
Similarly, the Museo's Photo Archive may be interested in "field photos", especially vintage ones, which show trajes in detail. Please know that the perspective sought is ethnographic, not "art" photos. Remote or less-touristed areas are especially helpful in documentation.