Noteworthy textiles—with commentary by Ray Senuk.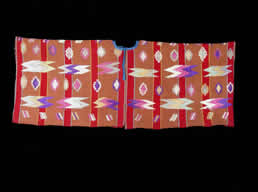 COFRADIA HUIPIL (ceremonial woman's blouse)
Tecpan, Department of Chimaltenango
Language Group: Kaqchikel
1940s/1950s
Sanchez Collection/Friends of the Ixchel Museum
The warp stripe patterning is very typical of this ceremonial huipil from Tecpan. The natural brown (cuyascate) and red with accents of indigo and yellow make for a very striking piece. The red weft throughout is partly visible and gives the natural brown threads a reddish glow. The supplementary weft brocade is single faced and done completely in silk. Saying that brocade is single faced indicates that the design is only visible on the front of the textile and that none of the weft floats are carried on the back. Describing brocade as two-faced indicates that the design is not only visible on the front but that the weft floats are also visible on the back of the textile. Cofradia huipils from Tecpan were woven in a wide format to ensure that only the hands were exposed.