Announcing the First Publication from the Friends of the Ixchel Museum
MAJAN TRAJE: A TRADITION IN TRANSITION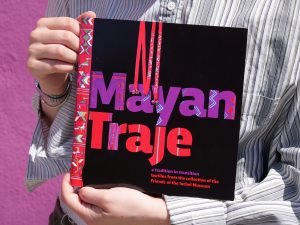 The perfect gift! Our first FOIM publication is spectacular.
Full of rich information and glorious illustrations, this booklet will appeal to novices and collectors. Its 36 pages show historic and modern Guatemalan textiles in large, color-balanced photographs – with descriptions by Raymond E. Senuk. Useful to accompany exhibits/lectures or as conference gifts. Good souvenir for past visits to Guatemala.
English only.
$16 each including shipping and handling. $12 each for 5 or more.
To order, please send us an email by clicking here.

Since 1983, the Museo Ixchel has published more than 20 monographs on textiles. A subset of these has been jointly funded by the Friends of the Ixchel Museum—works have been either translated into English, or developed as a bi-lingual publication from concept. Publications can generally be ordered directly from the museum. However, the Friends has limited supplies of recent ones which it makes available to its members as a service. Current offerings are listed below and can be ordered via our email abd you can contact us here. Note: prices do not include shipping and handling.
Embroidery: Stitches that Unite Cultures / Bordados: Puntadas que Unen Culturas
A lavishly-illustrated softcover book showing techniques and designs from this art form that frequently supplements Maya weavings. Serves as the catalogue to a recent exhibition. Authors: Barbara Knoke de Arathoon and Raymond E. Senuk. 120 pages with color illustrations (2010). $30/each plus S&H.
Maya Huipiles of Guatemala / Huipiles Mayas de Guatemala
An indispensable tool for visual identification of everyday Maya huipiles (blouses) from 117 communities. It is a large, double-sided "map"—34 by 23 inches printed on heavy stock, with color photographs and detailed information. Excellent as reference or as a gift (2011). $15/each plus S&H. (detailed description in Friends Bulletin December 2011).
Images of Indigenous Guatemala / Rostros de la Guatemala Indigena
A stunning set of field photographs by Anne Girard de Marroquin, the museum's long-time Director of the Photographic Archive. 20 black and white and 100 color images. All proceeds will be donated to the Museo Ixchel (2012). $35/each plus S&H. (detailed description in Friends Bulletin June 2012)
Additional Museo publications are usually available at US-based lectures and exhibits by the Friends of the Ixchel Museum, but are not sold by mail.
An annual calendar is sometimes offered… if interested, contact us by clicking here.
Click here for a complete list of Museo Ixchel publications (Please note – their items are not offered for sale via the Friends of the Ixchel Museum).