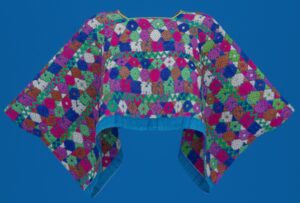 MI-07359
Over-huipil
Huipil de Tactic, Alta Verapaz
Linguistic community : Poqomchi'
This short garment with a square neckline is made with three cloth panels. It is usually worn outside the corte or skirt. It is considered one of the most attractive garments because of its colors and the striking red, green, orange, violet, blue and white supplementary weft brocades that almost completely cover the blue background. It also stands out for being among the simplest in the Guatemalan highlands.