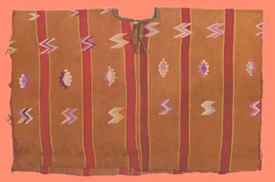 Ceremonial Over-Huipil
Vertical Furrows
Ixchel Museum Collection (MI-1540)
Tecpan Guatemala, Chimaltenango
Kaqchikel weavers from Tecpán Guatemala (Chimaltenango) refer to the brown vertical warp stripes ad cholaj or "furrows" – these are inserted between red stripes.
The brown stripes are made of natural brown cotton called cuyuscate. This type of cotton has a very special significance, as it is the same color as the earth, an element closely associated with women.
The traditional Maya worldview "Mother Earth" is still alluded to today as she nurtures and feeds the people, is worthy of the deepest respect and honor, and she also grants permission for planting cornfields and felling the tree of life.