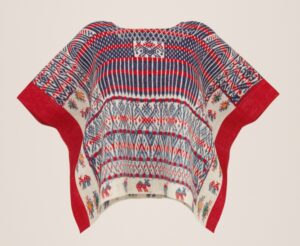 Ixchel Museum Collection
MI-00729
Huipil
Palín, Escuintla
Linguistic Community: Poqomam
This short and lightweight garment with a square neckline is made with a single cloth panel. It usually hangs over the corte or skirt. The base of the panel is white with red warp stripes on the sides, which measure approximately two inches. Rhombuses and birds flank the stripes and can also be seen along the lower part. The rest of the huipil features a two-headed eagle as a central symbol, underneath which there is a row of two-headed eagles and geometric, horizontal figures. The designs were brocaded with supplementary wefts.
Click on link below for video of this Huipil.