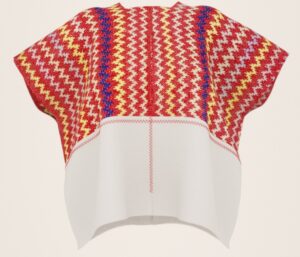 P-051
Over-huipil
Magdalena Milpas Altas, Sacatepéquez
Linguistic community; Kaqchikel
This garment is made with two cloth panels sewn together by hand with a randa (decorative embroidery used to join the edges of two cloth panels). The main decorative element is a pattern of vertical red, yellow and blue zigzags that were brocaded using supplementary wefts. The white lower part of this garment is worn tucked inside the corte or skirt. Another characteristic of this huipil is that it has a square neckline and a button to close it.