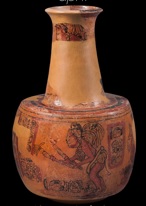 Tambor polícomo
Polychrome drum
Periodo Clásico Tardío/Late Classic period (600-900 d.C./AD)
Tierras Bajas/Lowlands (No. 1.2.179.0155)
Arm drum known as 'Pax'. Decorated with ten characters identified as musicians and dangers around the surface. This is the only drum, to date, that includes glyphic texts and part of the logogram that identifies it as a 'drum'.