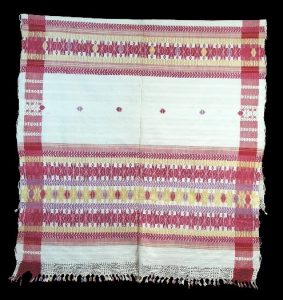 by Raymond Senuk
June 2020
I have chosen a Cofradia mantel from Quetzaltenango as the subject textile to talk about dyestuffs. Why dyestuffs? Their identity and the time frame for their use are invaluable to dating textiles. There are a number of other characteristics – iconographic elements, including their size and placement, the size and proportions of the textile, the techniques employed for brocade and a host of other components – but for the purposes of this article, we will limit our discussion to dyestuffs.
In This Issue
It Is All About Threads and Dyestuffs
In the Museum
Announcing the First Publication from FOIM – Mayan Traje: A Tradition in Transition
Joe Borgatti
Read the full article below, or download.